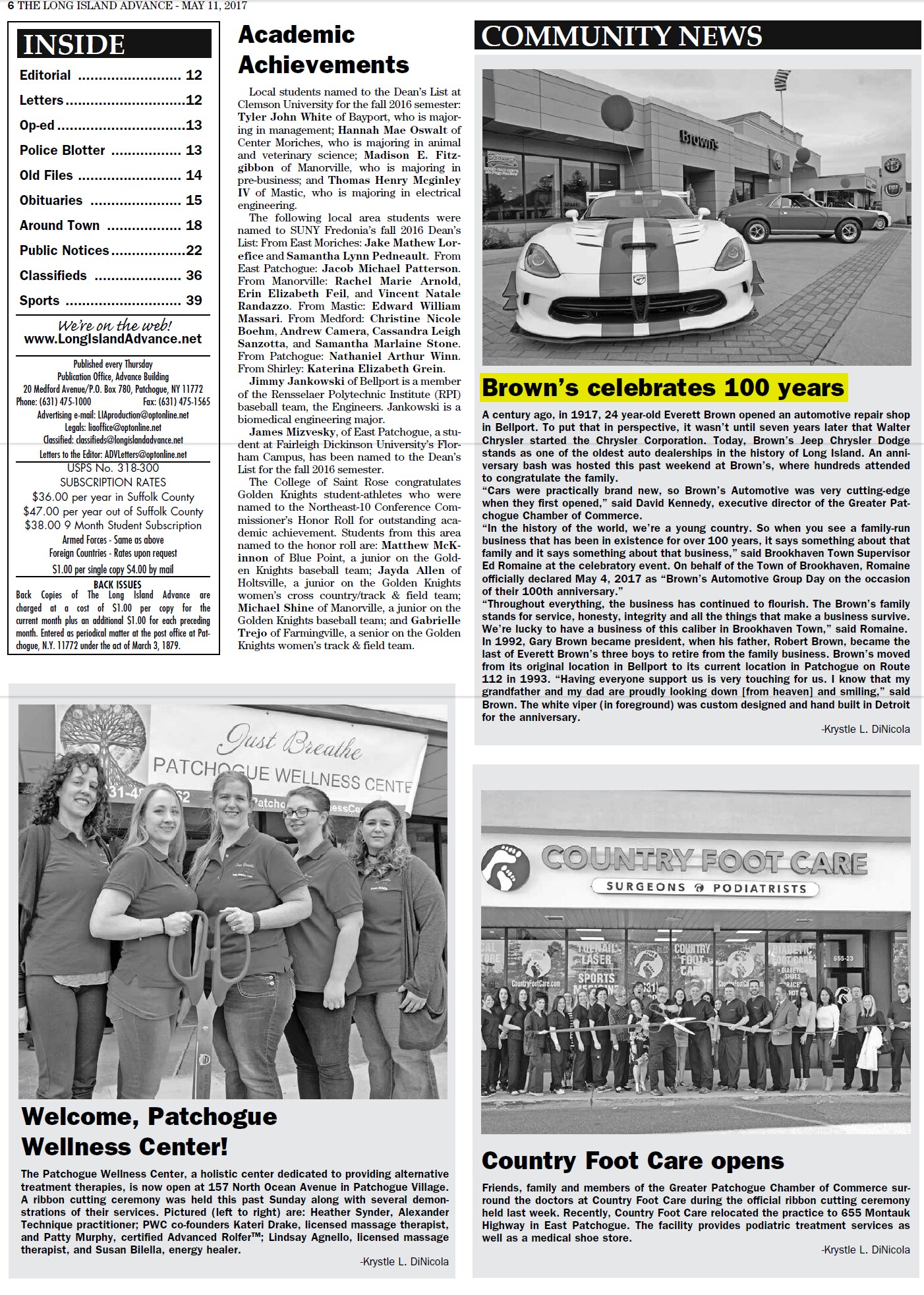 A century ago, in 1917, 24 year-old Everett Brown opened an automotive repair shop in Bellport. To put that in perspective, it wasn't until seven years later that Walter Chrysler started the Chrysler Corporation. Today, Brown's Jeep Chrysler Dodge stands as one of the oldest auto dealerships in the history of Long Island. An anni-versary bash was hosted this past weekend at Brown's, where hundreds attended to congratulate the family.
"Cars were practically brand new, so Brown's Automotive was very cutting-edge when they first opened," said David Kennedy, executive director of the Greater Pat-chogue Chamber of Commerce.
"In the history of the world, we're a young country. So when you see a family-run business that has been in existence for over 100 years, it says something about that family and it says something about that business," said Brookhaven Town Supervisor Ed Romaine at the celebratory event. On behalf of the Town of Brookhaven, Romaine officially declared May 4, 2017 as "Brown's Automotive Group Day on the occasion of their 100th anniversary."
"Throughout everything, the business has continued to flourish. The Brown's family stands for service, honesty, integrity and all the things that make a business survive. We're lucky to have a business of this caliber in Brookhaven Town," said Romaine. In 1992, Gary Brown became president, when his father, Robert Brown, became the last of Everett Brown's three boys to retire from the family business. Brown's moved from its original location in Bellport to its current location in Patchogue on Route 112 in 1993. "Having everyone support us is very touching for us. I know that my grandfather and my dad are proudly looking down [from heaven] and smiling," said Brown. The white viper (in foreground) was custom designed and hand built in Detroit for the anniversary.