5 Reasons to Love the Chrysler Pacifica
When families are out shopping for a new minivan to accommodate their growing family, they inevitably turn to the Chrysler Pacifica in Patchogue, NY. Why, you may ask? In 2020, the Pacifica held the distinction of being the only minivan available with the option of gas and electric hybrid power. The new year model of 2021 has increased the momentum of being a true leader of the minivan, and secured its place as a Consumer Guide "Best Buy" in the class by getting a significant update. At Brown's Chrysler dealership, we offer a great selection of new 2021 Chrysler Pacifica gas and hybrid models for you to find the right fit for your lifestyle and budget! Families are not only looking for more space, but also expect a great deal on Pacifica lease and finance options. Our professional and friendly sales staff is here to help you when you are ready to lease or buy a new Pacifica minivan near Long Island. We have outlined below the 5 reasons why you will love this minivan out of all the other options available on the market!
Long Range Driving
Having a family can cause the odometer to track some incredible mileage amounts over the course of the year. That shouldn't mean, however, that you want to spend that much more at the gas pump. The 2021 Chrysler Pacifica is officially coming to your rescue with an incredible range of over 500 miles. This year's release features an engine with a range of over 400 miles and an additional all-electric setting, which will net you another 30 plus miles. As a family on the move, you'll love taking advantage of this minivan's amazing range.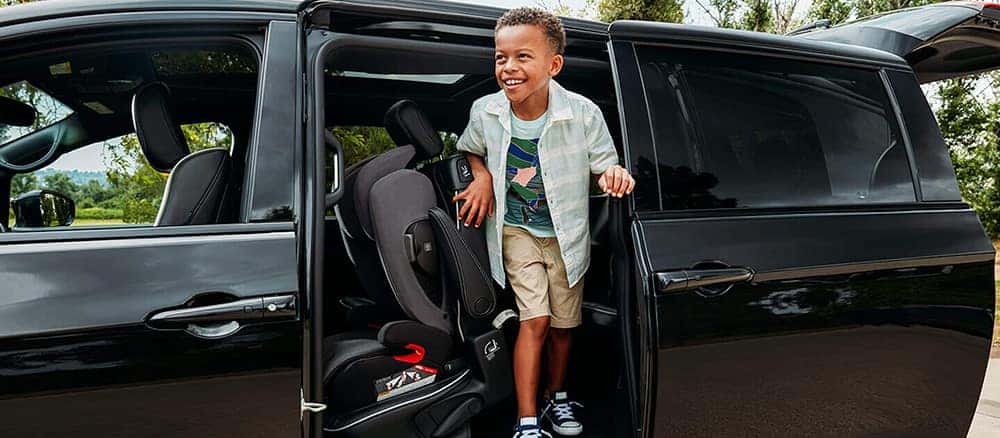 Safety Features
Safety is probably pretty high on the must-have list when on the hunt for a new family vehicle. The new Pacifica has a laundry list of safety features that will keep you, your family, and even the vehicles around you just a little bit safer. In total, there are over 100 safety features included in the 2021 Chrysler Pacifica. For parents with younger children in the back seat, be sure to take advantage of the FamCam feature, which will give you a better look at what's going on in the back seat.
Among the most sought-after and in-demand features are an automatic braking system with pedestrian detection, full-speed collision warnings, and adaptive cruise control. The new Pacifica also includes a lane monitoring system that helps you stay in your lane, or even stay on the road. One thing that may be understated on feature lists on vehicles is the headlamps. The 2021 Pacifca includes LED headlamps and taillights for extra visibility when you need it most.
Interior Technology
One thing you don't want to be short on during a long drive is entertainment. Keeping everyone happy and entertained on a road trip or long commute is challenging to say the least. The 2021 Chrysler Pacifica offers some incredible entertainment features that will keep the pickiest passengers entertained.
In front of it all is one of the largest touch-screen displays available. At 10.1 inches, you'll be able to interact with the intuitive infotainment system with ease. The new Pacifica features all the latest and greatest entertainment features such as Android Auto, Apple CarPlay, and Sirius XM. The van also includes the ability to create a wireless 4G LTE hot spot. You'll also have on-the-go access to Amazon Alexa and all of its incredible features. Connect to the UConnect Market to make purchases and find restaurants on the go.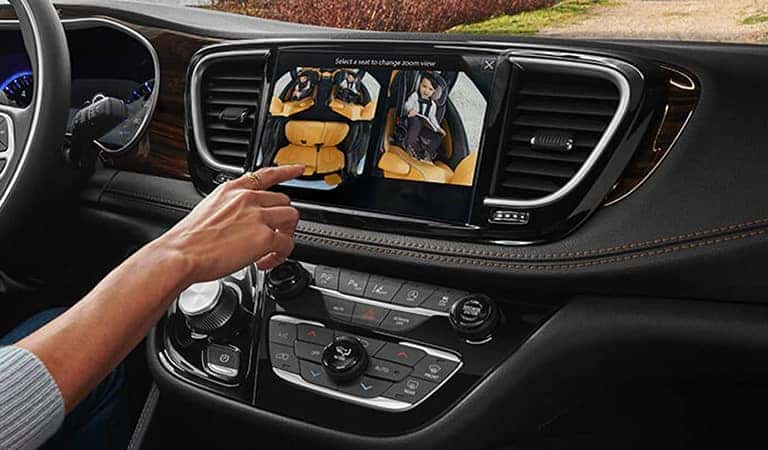 Plenty Of Indulgences
Another reason why the Pacifica is preferred by families is due to its great resourcefulness and adaptability, with advantages like Stow 'n Go seating, second-row vacuum, three-row reclining seats, and even USB's throughout the car.

Hybrid Technology and Power
The 2021 Chrysler Pacifica Hybrid is equipped with the latest and greatest hybrid technology. You'll receive a gas driving range of up to 488 miles, with an electric driving range of 32 miles to give you a total range of up to 520 miles and a combined rating of up to 84 MPGe. This means that you and your family can spend more time exploring, traveling, and just living life in general without stopping at the pump.
Power is generated by a powerful lithium-ion battery, which can regenerate its charge in as little as two hours. With a 3.6-liter V-6 engine and two electric motors paired with the lithium-ion battery, you'll have plenty of power as well, with up to 260 horsepower. That's rather impressive for a hybrid.
Visit Brown's Chrysler Dodge Jeep Ram Dealership in Patchogue Today!
View Available Pacifica Inventory at Brown's Chrysler dealership, near Port Jefferson and Long Island! Our sales team is looking forward to serving you, and letting you take it for test drive!